Cloud security: here's why you cannot do without it
Has your organization moved data, applications and associated infrastructure to the cloud or are you intending to do so soon? In this case it's a good idea to think about the right way of protecting all that sensitive information. A good solution for this is implementing a cloud security strategy. We explain what is meant by the term, the benefits it has for your organization and why you can't live without it.
What is cloud security?
Cloud security (or cloud computing security) can be defined as the techniques and operational plans for protecting applications, services and other necessary data within the cloud. Cloud security protects the business data and privacy of both customers and users. The degree of security required depends on the cloud provider and therefore on the type of cloud computing chosen. Three possibilities can be distinguished:
Public Cloud:

using resources from a third party (often SaaS-,

I

aaS- and PaaS solutions) that also remain under the management of the provider.

Private Cloud:

this means that all the services and infrastructure resources are either managed in-house

or outsourced to a management party

.

Hybrid Cloud:

where the infrastructure of a private cloud and the public cloud are combined.
In the case of a private cloud, the management is in your own hands and the responsibility lies with both the users and the organization itself. This is basically a task for the provider in the case of the public cloud, but the users are partly responsible here too. Providers do everything they can to prevent issues and make using it as safe as possible, of course, but they have no influence over how customers use their services. Cloud security is therefore needed, whether it's for private, public or hybrid cloud computing .
Why is cloud security so important?
Substantial increases are also being seen worldwide in use of the cloud. The Gartner research company is predicting an increase of 18.4% globally in investments in public cloud services in 2021 compared to the previous year. Although this is a positive development, transferring data and applications to the cloud also brings risks such as not only hacking and cybercrime but also data leaks – accidental or otherwise – that put sensitive information out into the public domain. A A cloud security report by (ISC)2 showed that 28% of companies had some kind of 'cloud incident' in 2019. So there are good reasons for looking at the options for good cloud security strategies.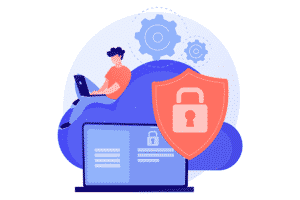 How does cloud security work in practice?
A data protection security strategy needs to be entirely tuned to your organization's requirements. In other words, there is no single strategy that will work for everyone. Nevertheless, there are four basic tools and strategies for making data and information in the cloud secure:
1. Encryption
This protects your data by encrypting it when it is to be stored or transmitted, making sure that service providers and third parties are unable to access your data without the key.
2. Strong passwords
It may sound obvious, but a strong password is essential for protecting privacy-sensitive information. The majority of attacks still happen because weak passwords are used. Always choose a password of fifteen characters or more and avoid personal information such as your name, date of birth or company name. You might have thought everyone would know that, but did you know that the commonest password is still '123456'? You can do better than that. A lot better.
3. Privacy settings
Particularly when using a public cloud provider, it is important to look at the privacy settings. Make sure you don't share privacy-sensitive information through apps that connect to your service provider.
4. Avoiding public Wi-Fi networks
Even firewalls, strong passwords and antivirus and antimalware programs can't guarantee the security of your data when you log onto a public Wi-Fi network. So never blindly use a network if you are not sure who owns it.
What are the components of cloud security?
One important principle of cloud security is the zero-trust strategy. This means that you should never automatically trust anything or anyone inside or outside the network and that you verify everything. Users only get access to what they need for doing their job properly, for example, and nothing else. This lets you create the same kind of security for the cloud as you would set up for your own IT infrastructure.
Four components need to be combined for adopting this strategy:
Visibility & compliance:

a continuous picture of the cloud environment allows improvements to be quickly identified and implemented.

Computer-based security:

protection of PaaS solutions (platform as a service).

Network protections:

making the network more secure by e.g. micro-segmentation.

Identity security:

making sure that users only have access to what they genuinely need.
Setting up these four components correctly lets you create solid foundations for comprehensive and complete cloud security.
The advantage of cloud security through Felton
Cloud security reduces the risks of cyberattacks and data leaks as well as offering other benefits for your organization. These include reducing manual tasks and administrative tasks, centralized security, increased reliability and cost savings from reduced expenditure on dedicated hardware and human resources. After all, cloud security is a proactive approach, whereas troubleshooting used to be a reactive response by the IT department. On top of that, a cloud security solution offers 24/7 monitoring, letting your IT department focus on the important things within your organization.
Felton works with a wide range of partners,which means we have all the knowledge and tools in house for taking the worries off your organization's hands – everything from the design to the realization and 24/7 management.
Would you like to know more?
If you would like more information about cloud computing and the right way to protect it, Felton can recommend the best options independently. At Felton we provide brand-independent advice on the best options. Make an appointment with one of our specialists (without obligation) to discuss the options for your company. For an appointment you can email info@felton.nl.