What are the benefits of endpoint security?
The endpoint is still one of the weakest links. The endpoint is often the workplace or a mobile device and it is often the source of many cybersecurity incidents and therefore the starting point of many problems. More than enough reason to take a serious look at cybersecurity in the workplace.
Endpoint security can offer the right solution for this, ensuring that internal and external users no longer constitute the weak links. On this page, you can read why endpoint security is important, how it works and how it compares to traditional antivirus solutions.
Why is endpoint security important?
Data is companies' most valuable asset nowadays. Losing that data or the access to it can have major financial consequences. In addition, companies are having to deal with increasing numbers of endpoints in an increasing variety of types: laptops, tablets, mobile devices, printers, servers, etc.
This is making corporate security increasingly difficult and more complex, particularly now that it is ever more common for people to work remotely and use their own mobile devices or other equipment for doing their work. In addition, cybercrime is also being tackled more vigorously and professionally.
Endpoint security makes modern workstations and access to your network more secure by means of endpoint detection. This protects all the endpoints that can access your network and reduces the risk of losing your data and your access to it.
How does endpoint security work?
Endpoint security is the protection of data and workflows associated with the individual devices that make connections to the network. Endpoint protection platforms (EPPs) analyse all files coming into the network and use a cloud-based database to compare the files against known threats, constantly expanding this database as they do so.
The EPP gives system administrators a single central console that is installed on a network gateway or server, allowing cybersecurity professionals to control the security for any device remotely. The client software is assigned to each endpoint and can be delivered as SaaS or installed directly on the device.
Once the endpoint is configured, the client software can install updates when necessary, verify login attempts and enforce company policies. An EPP also secures the endpoints by whitelisting or blacklisting applications and by encrypting data.
EPPs are available as on-premises or cloud-based solutions. Cloud-based solutions are more scalable, more agile and easier to integrate with your current IT infrastructure, although you may need to opt for an on-premises or hybrid solutionin cases of strict compliance rules.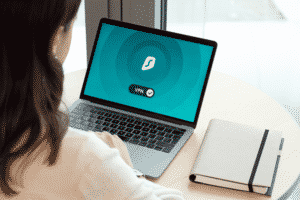 Endpoint security components
In most cases, endpoint security software contains these important components:
Machine learning classification to detect zero-day threats in near real time.

Advanced anti-malware and antivirus protection to detect and correct malware on various endpoints and operating systems.

Proactive web security to make sure browsing on the Internet is safe.

Data classification and data loss prevention to prevent exfiltration.

An integrated firewall to block hostile network attacks.

An e-mail gateway to block phishing and social engineering attempts against your staff.

Threat forensics that make it possible for administrators to isolate threats quickly.

Protection against inside threats to protect you from both unintentional and malicious actions.

A centralized endpoint management platform that improves visibility and simplifies the actions.

Endpoint, e-mail and disk encryption to prevent data loss.
Endpoint protection versus traditional antivirus software
EPPs and traditional antivirus security software differ in several key respects:
Endpoint security versus network security
Antivirus programs are designed to protect a single endpoint, whereas endpoint security looks at the entire company network and (from one location) can protect all connected devices.
Administration
Antivirus solutions depend on the user either updating the databases manually or allowing updates at pre-set times, whereas EPPs provide interconnected security that makes the IT or cybersecurity team responsible for managing your company's security.
Protection
Traditional antivirus solutions use signature-based detection to find viruses. This means that you are still at risk if the threat originates at your company or if the users have not updated their antivirus programs. Using the cloud keeps EPP solutions up to date automatically. Behavioural analysis techniques are used for discovering previously unidentified threats based on suspicious behaviour.
Endpoint Detection and Response (EDR)
Some endpoint security solutions also have an endpoint detection and response (EDR) component. This ensures that more advanced-level threats can also be detected and responded to appropriately straight away. Continuous monitoring of the entire network lets an EDR solution provide greater visibility and appropriate responses.
How can Felton help?
Felton offers a managed security service and helps you develop and establish your security policy. This relieves you completely of all the worries and lets you relax and focus on your business. At Felton, we look at what your business needs and choose the most appropriate form of security. In addition to endpoint security, we also offer cloud security andnetwork security.
in which we look at the entire chain, naturally, as identity management and proper authorization processes also play a major role in your security. A workplace must protect your users at all times and it must be able to detect potential risks immediately.
Want to know more? Download our Dutch Whitepaper 'Security-as-a-Service, totale ontzorging van het beheer van de IT-beveiliging'.
If you are ready to get serious about the security of your workplaces, our security experts will be pleased to answer all your questions. Send an e-mail to info@felton.nl or call 088–4637700 for more information. We will be happy to provide you with advice tailored to your situation!